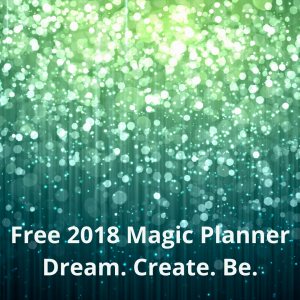 What would make you feel most alive, aligned, fulfilled and like the person YOU want to be in 2018 and beyond?
In our heart and soul we know that we are on the planet to learn, love, grow, create and express our gifts, talents, passion and purpose in a way that brings us fulfilment and ultimately helps our planet heal and evolve.
Sometimes (or most of the time) we are so caught up in our everyday lives with responsibilities, duties, tight schedules, struggles and disappointments that we forget to tune into our heart and soul.
As we are nearing the end of the year, it´s a wonderful opportunity to acknowledge where we have been in 2017, taking the best of what we have learnt, releasing anything that no longer serves us and create space for our heart´s desires to enter our life.
I´ve been busy working on a new free resource for my For You Library: The 2018 Magic Planner. It´s an insightful and empowering tool that will help you reflect, complete and honour 2017 – no matter how bumpy, confronting and challenging it might have been – and then get super intentional about 2018 by creating a vision, visualizing your heart´s desires and then take inspired action towards them.
Life is the sum of all our decisions and this is where our power lies: in making the right decisions for ourselves, planning from the heart – with purpose.
For us to feel fulfilled, peaceful and joyful, we need to be pursuing the deeper internal desires of our heart and soul in our work, our relationships and our free time. It´s actually a process of loving ourselves.
I hope you love the Magic Planner as much as I have loved creating it. Go to the For You Library, download this beautiful resource, grab a mug of steaming tea, your favourite pen, light a candle and tune into your heart and soul.
To your magic 2018!
With love, Daniela