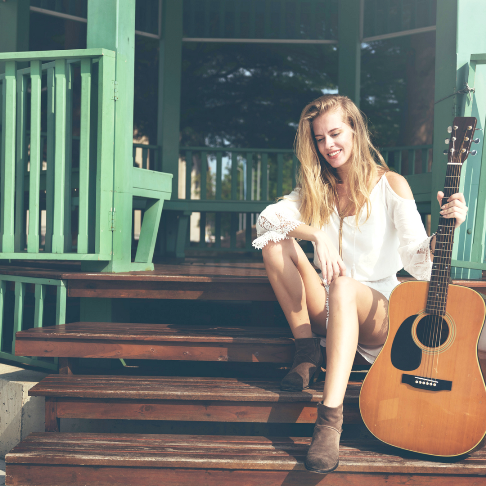 Music has been a wonderful companion and powerful resource for me throughout my life. I have always found inspiration, guidance, comfort and empowerment in music. Without music I wouldn´t be the person I am today. From a very young age, music has shaped me, my way of living and the way I perceive the world in a significant and beautiful way.
Music speaks to the soul because it´s the language of the soul. Whatever we are going through, whether it´s heartbreak or immense joy, it can be expressed through music.
According to research, music has also positive physical effects. It can produce direct biological changes such as reducing heart rate, blood pressure, slow down breathing and regulate cortisol levels. It also lifts mood, reduces anxiety, stimulates relaxation and raises motivation.
Music has been a major source of soothing and healing when I was going through my breakup in 2016.
I even started to take singing lessons and that was a big leap for me as a rather shy and introverted person who has previously found it difficult to speak up and let herself be heard.
After a bit of research I was led to the right teacher. I have found time and again that if we know ourselves, know and feel what we want and let ourselves be guided by our intuition we are always led to the right people or circumstances.
My teacher is a wonderful woman with similar values. She had no agenda how I was supposed to sing, she just helped me find and polish my authentic voice. Within a couple of months, I was able to sing many of my favourite songs and mantras. Singing is so healing because we sing to ourselves, to the innermost parts of ourselves that we may not access in other ways.

Here are the songs and mantras that most helped me on my journey from heartbreak to healing.
Beautiful flower / India Arie – The no. 1 song that got me through my breakup. There were days when I did little else than listen to this powerful song. It gave me the strength I needed to get from one day to the next and to stay true to myself and to my vision.
Let it be / The Beatles – Every time I felt tempted to reach out to my lost love, I put on this song and sang along and I can guarantee you that I never ever reached out.
In dreams / Jai-Jagdeesh – A beautiful lullaby kind of song that helped me feel love and create love from the inside out.
Happy / Pharrell Williams – I listened and danced to this song every day with the idea of consciously changing my mood even if it was just for 10 minutes.
Time to shine / Mélanie René – Uplifting, inspiring & empowering. My personal "rise of the phoenix" song.
Moola mantra / Deva Premal – This mantra evokes the living God, asking protection and freedom from all sorrow and suffering. I find it very soothing and calming. Whenever I feel out of balance and disconnected from my inner peace, this mantra helps me reconnect within short time.
Om tryambakam mantra / Deva Premal, Miten & Manose – A life-affirming vedic mantra. It wards off evil or negative forces by creating a protective psychic shield around the practitioner. It is said to lift up sorrow, help remove obstacles in life and overcome difficult situations.
Hopefully these songs and mantras resonate with you or inspire you to search for your own music.
Are you ready to heal this beautiful heart of yours and create a life you love?
Get access to my For You library with free resources
Schedule a complimentary consult to work 1:1 with me through my private coaching programme(s): daniela(dot)amberg(at)gmx(dot)de
And above all: love yourself like your life depends on it because it does!